EXPERT ENGINEERING SUPPORT SERVICES
Snowline provides innovative engineering and design solutions aimed at optimizing your products and prototypes for manufacturability. Our engineering support services are backed by over half a century of American manufacturing expertise serving a diverse range of precision metalworking applications. Quality and consistency are further guaranteed through our ASD9100 and ISO 9001:2015 certifications.
Precision Engineering Solutions – From Design to Manufacturing to Turnkey Assembly
Snowline's engineering and manufacturing services can be customized to suit your unique application, regardless of your product's lifecycle stage.
We can engineer your products from scratch, making careful design choices every step of the way to facilitate efficiency throughout the entire manufacturing and assembly process. Alternatively, we can improve and enhance your existing product designs to facilitate more cost-effective manufacturability compared to your current production design. In either case, Snowline delivers versatile engineering support solutions in accordance with the strictest aerospace quality standards and regulations.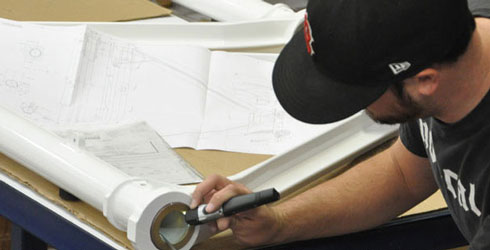 In-House Designed and Fabricated
Our state-of-the-art manufacturing facility is integrated with a fully equipped precision fabrication shop. From the latest CAD engineering software and technology, to our close-tolerance laser cutting machines and AWS-certified welding department, Snowline can engineer, develop and produce your precision products entirely in house.
Snowline offers extensive design for manufacturing (DFM) expertise. Our aim is to fully optimize the lean manufacturing process before it even begins.
We help you determine the cost impact of design decisions before they are put into production.

Our engineers modify and/or draft new product designs which promote more efficient, cost-effective manufacturability.

We can update your legacy designs to streamline their production using modern manufacturing techniques, which are more capable, cost-effective and sustainable.
As an example, Snowline has extensively contracted with a leading aerospace manufacturer who was previously utilizing a forged part design dating back to the 1950s. Our engineers completely redesigned the part taking advantage of higher-quality modern materials which eliminated the forging requirement altogether. Our enhanced design not only enabled a more streamlined production process, it ultimately yielded a better, stronger, more sustainable product.
Snowline's design solutions can also fully optimize your products for turnkey assembly services. Our turnkey design and manufacturing capabilities reduce your time to market and minimize your overall production costs. Simultaneously, product quality and consistency are maximized through a simpler, more efficient assembly process.
Moreover, our design for assembly solutions minimize the possibility of production errors which preserves your products' reputation in the marketplace.
We can redesign your legacy components to simplify the assembly process, automated or otherwise.

We can reverse engineer your complex assemblies and modify the designs to take advantage of modern manufacturing methods.
Your Single Source for Total Engineering Support
Snowline offers exceptional end-to-end design and engineering solutions. We deliver precision throughout the entire production process – from prototyping and conceptualization to product development, manufacturing and post-production support.