Why You Should Partner with an AWS Certified Welding Shop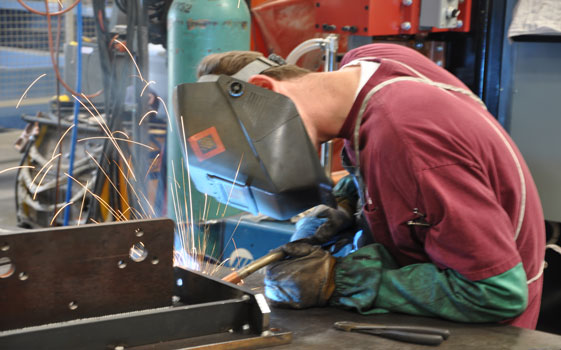 The American Welding Society (AWS) provides certification for various unique welding procedures and applications – including, of course, the highly specialized aerospace welding sector. This certification program is designed to ensure that each welder employed by an AWS certified fabrication shop possesses the training, skills, and experience needed to reliably tackle today's difficult industrial welding projects.
The main purpose of AWS certification is to ensure quality and accuracy throughout any custom welding project, and to ensure absolute consistency from one component to the next. This is why customers should virtually always choose an AWS certified welding shop – especially in the case of aerospace fabrication projects, which demand the utmost in precision craftsmanship.
An Overview of Snowline's AWS Certified Welding Services
Snowline's integrated weld shop and fabrication departments are outfitted with a full range of cutting-edge welding technologies capable of accommodating today's aerospace industry and beyond. From fusion and resistance welding to spot welding and torch brazing, we offer a full suite of state-of-the-art welding solutions – all backed by the relevant AWS certifications.
Over 6,000 sq.-ft of Production Space for Industrial Welding Projects
The weld department occupies 6,000 square feet and is equipped for five full-time welders to offer unbeatable turnaround times and rapid response. All of our the expert welders employed by Snowline Engineering are certified to weld to the following quality standards:
AWS D17.1 Fusion Welding for Aerospace Applications

AWS D17.2 Spot and Seam Welding for Aerospace Applications

Lockheed Martin STP 55-104 Fusion Welding

Lockheed Martin C-1421 Resistance Welding (Spot and Seam Welding)

Lockheed Martin STP 55-303 Brazing (Torch), Copper, Steel, Nickel and Cobalt Alloys
Our experienced team of welders and fabricators also hold the following material-specific certifications, ensuring superior weld quality and consistency regardless of the metal type required.
Snowline Engineering AWS D1.1 Structural Welding Code for Steel

Snowline Engineering AWS D1.2 Structural Welding Code for Aluminum

Snowline Engineering AWS D1.3 Structural Welding Code for Sheet Steel

Snowline Engineering AWS D1.6 Structural Welding Code for Stainless Steel
A Specialized AWS Certified Weld Shop for the Aerospace Industry and Beyond
Snowline is an AS9100D certified American contract manufacturer serving today's flight sector and beyond, backed over half a century of innovation and experience. Our AWS certified welding department enables us to complete your project with the assured quality and accuracy that your precision products demand.