The Benefits of a Single-Source Aerospace Manufacturing Supplier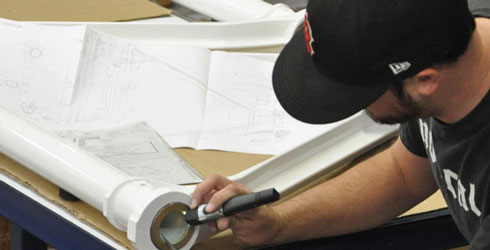 Partnering with a single-source engineering and manufacturing service provider offers a number of key advantages to your aerospace project.
Single-source contract manufacturers such as Snowline Engineering are able to offer higher flexibility, responsiveness, and dedication to your project. Furthermore, our company is able to leverage over half a century of aviation manufacturing experience with our current leading industry connections to help ensure the efficiency, sustainability, and – ultimately – the success of your project.
What Is a Single-Source Aerospace Manufacturer?
Single-source manufacturing and engineering companies provide complete project management solutions for the production of your custom aerospace products. From the development of custom prototypes to the machining and fabrication of precision production parts, we can tackle your aviation project from beginning to end.
Snowline functions as your single point-of-contact for the entirety of the project. This streamlines communications, ensuring efficiency and responsiveness in every step of our customer services. Whereas multi-sourcing your project will have you coordinating with numerous providers – attempting to sync up production stages and quality controls – single-sourcing lets you focus on the other needs of your business while Snowline handles every aspect of product manufacturing.
The Primary Advantages of Single-Source Manufacturing and Engineering Services
A single-source aerospace provider is able to deliver the consistent quality and precision that is required for today's aviation and flight components. This is especially beneficial to complex aerospace components and assemblies which require extensive engineering solutions. With Snowline, all aspects of engineering and manufacturing are integrated to ensure superior results that you and your customers can rely upon.
Higher quality and consistency for complex aerospace components and assemblies.

All aspects of your project are streamlined: from material procurement to manufacturing to delivery.

Far less administrative and logistical work required compared to multi-sourcing from numerous providers.

Faster lead times and potential cost savings due to our extensive network of industry connections and trusted vendors.
Your Single-Source American Manufacturer for the Aerospace Industry and Beyond
Snowline Engineering is an AS9100D certified American manufacturer with over half a century of industry-leading experience. Our company specializes in the custom manufacturing of precision products for the aerospace sector and beyond.